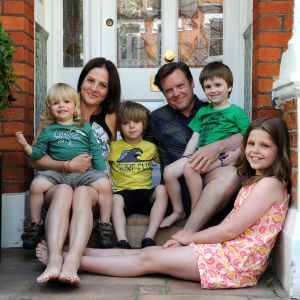 I'm Steph, an Australian mum of four living in Sydney. We lived in London from 2007 until 2013 but are back in Australia now introducing our very British children to all things Aussie. They're still convinced they're either going to be eaten by a shark or die from a snake bite but are slowly coming around to the idea that Vegemite is better than Marmite.
I have four children, Holly (12), Luca (9), Charlie (7) and Jude (5). We weren't supposed to have four kids but sometimes vasectomies don't work like they should. Having said that my fourth baby has completed our family in a way I could only have dreamed of and he is the best mistake we ever made.
I'm married to Rob. He's pretty fabulous even though he still can't stack a dishwasher properly. He supports my shoe habit and isn't grossed out when I sit in front of the TV with a jar of Nutella and a spoon. He's far more sensible than I am.
Life with four kids is chaotic. I notice when people who don't have more than two kids come over they go a little quiet when they witness the noise and carnage at our place and they usually leave earlier than expected. The upside is I never run out of things to write about.
The initial purpose of my blog when I started it in 2012 was to share funny tales of our life with you. End of. I'm not on any campaign for world peace, to promote feminism, or to preach whether you should squeeze a baby out of your vagina or not and I'd rather stick pins in my eyes than discuss politics. With all respect to others that blog for this purpose, I'm not one of them.
However over the past few years I have become quite passionate writing about two things that are very close to me – running and depression and I write about these frequently.
I can't sew and have no intention of ever learning so you'll never read anything crafty on my blog except how embarrassed my kids are of their home-made fancy dress.
I'm a long distance runner. Nobody is more surprised at this than me given I used to think I had no endorphins and that was why I hated exercise so much. I could only run 100m five or so years ago and in 2014 I carried out my dream of running the London Marathon. Fast forward to 2016 and my marathon tally is now at six!
I am passionate about my belief that running has lessened my depression and that running is so much more than just exercise.
I'm slightly obsessed with weights training and find it hilarious that a few years ago I thought exercise junkies were sick in the head and now I'm one of them, although half my obsession is the amount of shopping I get to do at Lululemon.
I'm also a hopeless Nutella addict so I'm a giant contradiction really.
A few years ago I stopped drinking and I am sober for life. Running and sobriety have taken my life to a peace I never knew existed and I write in the hope that others can learn from what I have experienced.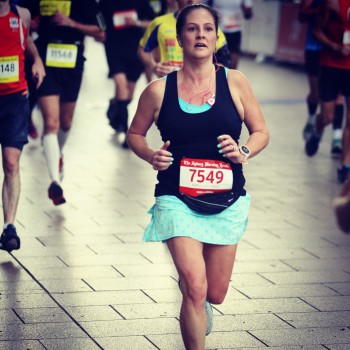 I'm a professional online shopaholic, shoe lover and think white chocolate is underrated.
I want to live at Downton Abbey.
I'm a neat freak who irons her sheets.
I think people who shun social media are weirdos.
I believe dumplings could bring world peace.
And I believe you should be able to start a sentence with 'And'.