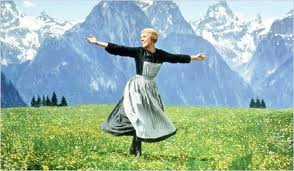 I'm pretty darned good at embarrassing myself in public.
I've blogged about it before, here and here and here.
As you know, I run a lot. My favourite Sydney run so far is through Lane Cove National Park. Starting at the Lady Game Drive gate and running up to Lane Cove Road and back. For somewhere that's very urban and bordering one of Sydney's busiest roads, it seems very remote.
Because it's a 40km zone, nobody drives through it as a thoroughfare so I can run 15km easily and not see a single car – just the odd cyclist and sometimes not even that. It's just me and the bastard wildlife that I can see sitting in the trees ready to swoop me come breeding season.
So I'm a little embarrassed to admit that when I'm running on my own I sing along to my iPod when my favourite songs come on.
Ever tried to run and sing at the same time? Have a go, it ain't pretty.
I'm a dreadful singer anyway but add bouncing around and being out of breath to the mix and I sound like dying bird with a beak full of marbles.
Anyway yesterday I was at around my 8th km, feeling really good and right in the middle of the National Park when my all time favourite running song 'Running Romeo' came on. I was in my own little world belting out a mean rendition of it and I might even have been skipping along to the beat too.
I'm a running romeo,
I'm running, running, running, running, running, running,
I'm a running romeo.
I kid you not.
Until I turned around to discover a group of guys from a running club had snuck up behind without me noticing. Six or seven of them, none of whom were wearing headphones and all of whom had witnessed my warped version of Gypsy and the Cat's classic.
And  they all clapped and cheered.
I could have died. So I just kept running and turned a ferocious shade of red. As they overtook me I could hear them laughing off into the distance and to be honest I hope to God I never run into them again. So embarrassing.
So when I'm not weeing on the gym floor, getting my period in front of 30,000 runners during the British 10k and not noticing until the finish line (in the same bloody shorts as said wee-gate), or driving down one way streets into the path of London buses, I am proving to members of the public why some of us were told to mime the words to hymns rather than sing them in school chapel services.
Sometimes I think I should just stay home.