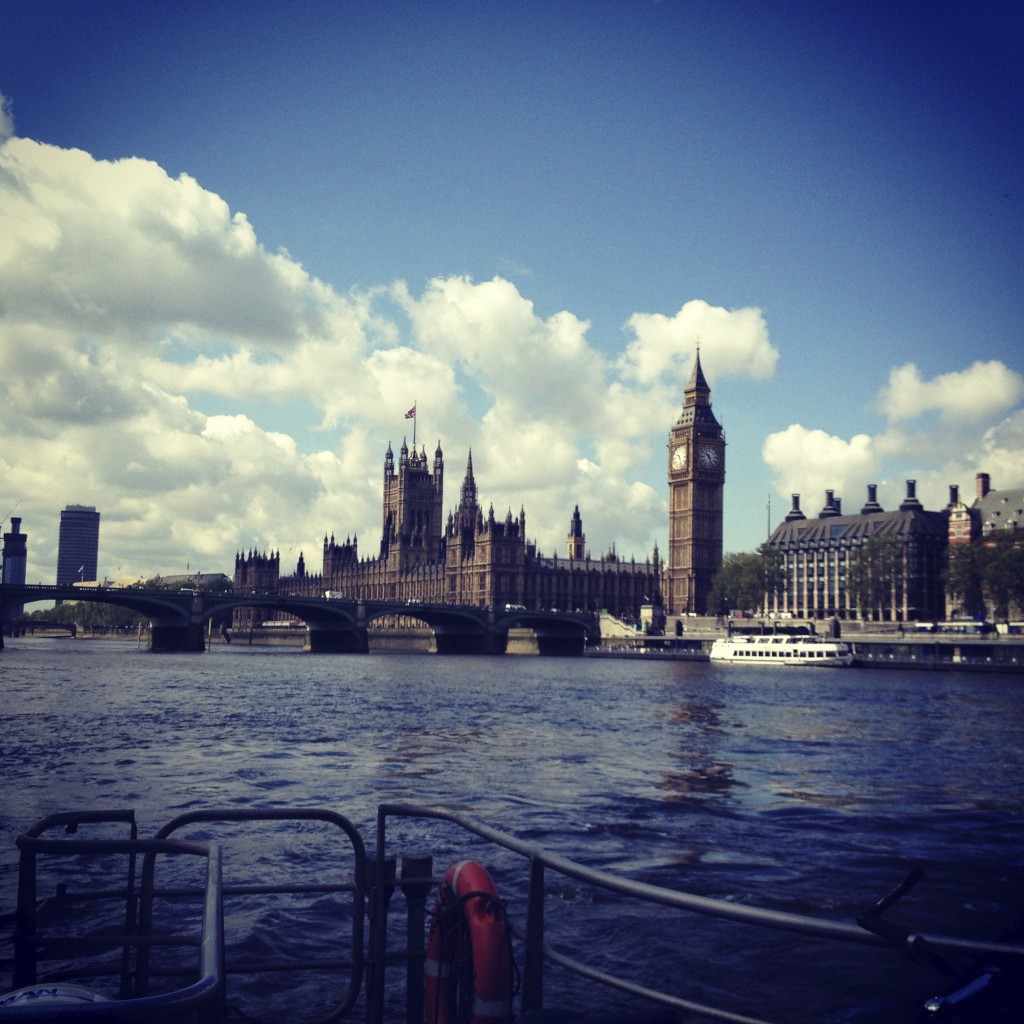 It's no secret that I'm having an enchanting love affair with another city.
I have loved London from the second I set foot in it back in 2007 and with each year my love for it deepens. Sometimes I feel like I'm cheating on Sydney because although it's my hometown and I love it, I never felt about Sydney the way I feel about London.
This morning I went on a long run and ended up along the Thames near Barnes, a beautiful leafy track that winds between Putney and Hammersmith Bridges. It's only 2 degrees today but the sky is blue and there isn't a breath of wind. Everything was frozen – the leaves, the park benches, the small puddles along the way, and it was magical. I was the only one on the path, running at a comfortable pace, with U2's 'Where The Streets Have No Name' on my iPod …
And I stopped and cried.
Have you ever been in a moment of such beauty and contentment that your emotions just overflowed? It happened to me then.
I love London for so many reasons. Its beauty, its history, the people, its location, the weather, the travel, THE SHOES … the list goes on.
We had our three sons here so don't really know family life in Australia as we left when Holly was three. We have built our family in London and the thought of leaving it is gut wrenching.
We've carved out a life for us here as though we had an empty bowl and we've filled it with things we love and we live our lives the way we want to without anyone else's influence.
It was the place where Rob and I truly became a team, relying on each other for everything and although we had a great marriage, it was where we became rock solid.
It's the beautiful thing about moving abroad. You get to start again. Build a life with the tools you've picked up in your past, the mistakes you've learned from and the dreams you carry. It's such a gift.
I love how accepting people are here. I can count on one hand the amount of people I know here who were actually born and bred in London. It's an amazing hub of different nationalities and people from all over Britain who've found their place in this wonderful city of opportunity. You can be anyone you want to be in London. It's the city that doesn't judge.
My children have seen things that nor Rob or I experienced until well into adulthood. They've travelled to countries I didn't know existed at that age and it's all because we're in the centre of the world and travel is so easy and inexpensive here. Want to go to Paris? No problem, we'll be there by lunchtime. Spain? See you in a few hours.
Our time in London is numbered. We've always known that sooner or later we'd move home and that is on the horizon for us now.
The biggest lesson I've learned in my time here is that when you're living on 'borrowed time' so to speak, when you know your time is limited, you make the most of it. Every day is special, every experience is a blessing and every memory a gift.
I hope that I can take this philosophy wherever we move to next and I want my kids to learn this far earlier than I did in life.
Deep aren't I?