Yesterday I ran the Sydney Morning Herald half marathon.
I am very pleased to report that I wasn't beaten by anybody dressed as a mustard bottle, nobody dressed in a dog costume, Darth Vadar or anyone wearing a mankini.
The only costume worth noting was someone wearing Speedo's and a bunch of balloons attached to a harness like thing I suspect you would buy in an adult shop somewhere, and he didn't beat me anyway, thankfully.
It always amazes me why you would dress up like that before putting your body through a 21km run in extreme discomfort, or even worse a marathon.
Last year in London I ran the Bupa 10k and there was a guy who ran the whole thing wearing a full suit of armour. I saw him still trying to get to the 1km mark as I ran towards the finish line. Apparently it took him eight hours. Turns out he raised a lot of money for the Alzheimer's foundation so his pain was their gain. A brilliant cause I might add.
Or another guy 'Tony the Fridge' in the UK who runs with a fridge on his back. He did the London Marathon this year and when he got to the finish line, he caught a train back to the start line and did it again. Not joking. He was trying to run 4 marathons in 24 hours with the fridge attached.
The fridge weighs 45kg and he has raised over £10,000 for Cancer Research UK. When he first started running endurance races, the idea was he'd stop so you can put money in his fridge .. but now he just runs with the door closed (maybe all that money got heavy!). Seriously, Google him. Amazing.
Also at the London Marathon I saw four women carrying a 60kg plastic horse the entire race … who are these people???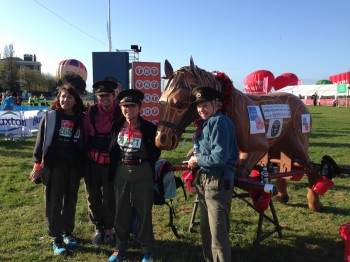 So this year (again) I decided to skip the costume and just ran in my normal running gear. I went all out and matched my nails to my outfit …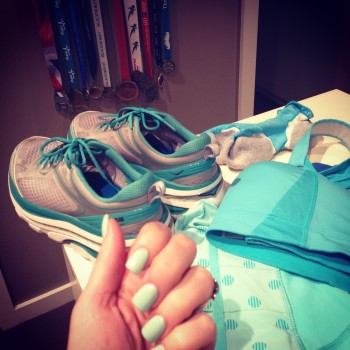 The race itself was crap. I just had one of those days where it hurt, a lot.
I wasn't sick, had plenty of sleep, ate right, hydrated, probably didn't do nearly enough training but on the back of the London Marathon should have been in shape .. but it was just not my day. I finished in a semi decent time but it was a long way off my personal best and where I wanted to be. To be honest I couldn't wait for it to be over …..
So I could do this.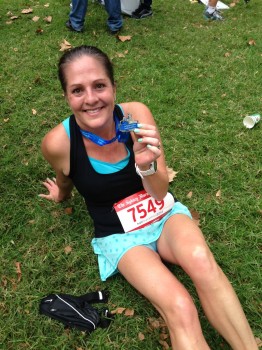 Followed by eating an ENORMOUS bacon and egg roll. Then a croissant – which turned out to be the highlight of my race experience.
Bacon solves everything.