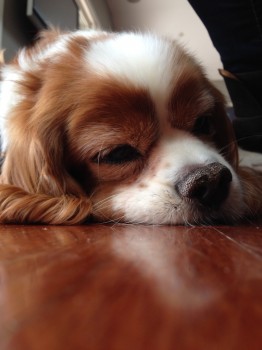 Yesterday was the saddest day I've had in a very long time.
Since I arrived back from London eleven days ago, I've been a bit preoccupied with my dog, Peanut, because I left Sydney on the 1st April after taking him for a run and came back three weeks later to a dog I hardly recognised and who could barely walk.
Rob had called me in London to say he was worried about Peanut, that he had lost weight and wasn't eating but I wasn't desperately concerned because I knew I'd be back the following week and I'd take care of him.
Peanut was my dog and didn't cope when I went anywhere. Every time I left the house I'd come back to find him sitting behind the front door – no matter if I'd been gone for an hour or a week. I was the one he loved and I was his world.
I thought maybe he'd been fretting without me because I've never been away for that long before.
He died yesterday.
I still can't believe I'm writing that. I bought him as a puppy in 2001 and he's been with me ever since. We used to fly him to Sydney with us once a month when we lived in Melbourne. I used to send him to "puppy daycare" even to get my hair cut. We took him to London with us for nearly seven years and despite concerns from our London vet that he wouldn't survive the flight home and his recommendation we put him down before we left the UK, I couldn't do it and decided to risk it and we brought him back.
I had him before I had any of my children and we even had him before our twins died in 2002. That was without doubt the greatest tragedy of my life which left me empty for a very very long time .. Peanut was around then. When I shut the world out for an entire year after Ella and Jasmine died, he stayed in my sad world with me. Never judging and always there. More than I can say for some humans I know.
I'm filled with guilt. I am aware that is a normal emotion to have when you experience grief through death but it doesn't make it any easier.
Guilt that I didn't play with him enough. That I could have spent more time with him. That I shouldn't have hit the roof when he ate sixty holes in our plaster walls and pulled up all the carpet and ate that too.
Guilt that I went to London. I worry that maybe he thought I'd left him. Why did he get sick when I was gone? It kills me that I wasn't here for him when he needed me and I'm so sorry for that. I wish I knew what he was thinking.
We still don't know what was wrong with him. He was too sick to survive an anaesthetic so we couldn't do any invasive testing but we knew he was bleeding internally and even a blood transfusion did nothing.
In the past week he deteriorated daily to the point he couldn't get up at all and his breathing sounded painful. He even smelt different. On Friday morning I knew what we had to do so we made the decision to have him put down to end his suffering.
It was the right thing to do but holding my beautiful dog while the life slipped away from him isn't something that will ever leave me. I know to some people he was only a dog but he was my dog and I loved him so very much.
Peanut: Horse chaser, squirrel seeker, cat food eater, sun worshipper, hater of snow, unable to do a wee without getting it all over his feet, licker of legs, tolerator of small children that I'm sure he wished I'd never had, friend, awesome running companion and my furry mate. See you on the other side, PeaPea.
RIP: 2001-2014