Marathon Training: The End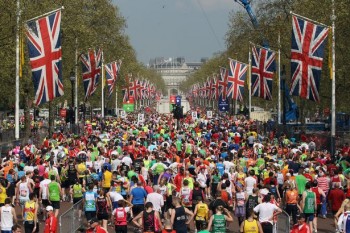 Well that's it.
Marathon training is pretty much over. On tuesday I leave for London and I can't believe it.
What a journey it has been.
Juggling a hectic life with four children and training for a marathon in the middle of a Sydney summer has been hard work but so incredibly rewarding. It has taught me that I'm so many things I thought I wasn't and that as humans we are capable of so much more than we sometimes believe of ourselves.
I have friends that have known me since I was at school who think it's the most hilarious thing ever that I am running a marathon. Being a runner is so far away from where I've stood most of my life that even I have to pinch myself sometimes. It took me a long time to classify myself as 'a runner'. Up until recently I'd just tell people that 'I run'.
But I'm a runner. I have earned that title.
I'm feeling extremely nervous about returning to London. Firstly because I'm totally beside myself over the marathon and secondly because I'm worried I won't want to come back.
It's been nine months since we left London and my heart still aches for it. I'm really hoping going back will lay some of that to rest and that it won't torment me even more. I can't wait to be back on English soil and breathe in zero humidity for a change.
So given it will probably be a couple of years at least until I get another trip back to London I'm going to soak up every single bit of my marathon experience.
Running forty two kilometres through my favourite city will be my own little (or not so little) victory lap, regardless of the outcome. Victory in that I've survived my first (almost) year back in Australia when at the beginning I really thought I wouldn't.
I'm still undecided what my goal is for the marathon. Wise people who I know who are experienced runners tell me that as it's my first I just need to enjoy it and not worry about my time. However given my nature I'm finding it hard to be satisfied with that and I have my own personal goal that I'm not sharing with anyone.
I know I'm going to love it. The person in my life who was my initial inspiration to run and who I owe an enormous amount of gratitude to for pushing me along when I started running will be there with me on the day. She believed in me even when I didn't. Everyone needs people like her in their life.
I'm finding it hard to control my emotions at the moment too. Although I am dying to get to London, I'm finding it hard to leave my boys. Charlie keeps telling me he is going to cry in the night for me and that he loves me infinity ninety hundred. Then he follows it up with "can you bring me an electric train from Hamley's?". No flies on my kids I tell you.
I am however taking Holly with me. This is going to be a very special trip for her, three weeks abroad just she and I, plus the chance to see all her childhood friends again. There will also be shopping. Lots and lots and LOTS of shopping.
So in two weeks time I will have run my first marathon. I've run hundreds and hundreds of kilometres in training for this. Most of those were done at 4am in the morning to avoid the heat and I've put my heart and soul into doing my best preparation for the race. I can't do much more than I have so fingers crossed it all pays off.