London & The Marathon … DONE!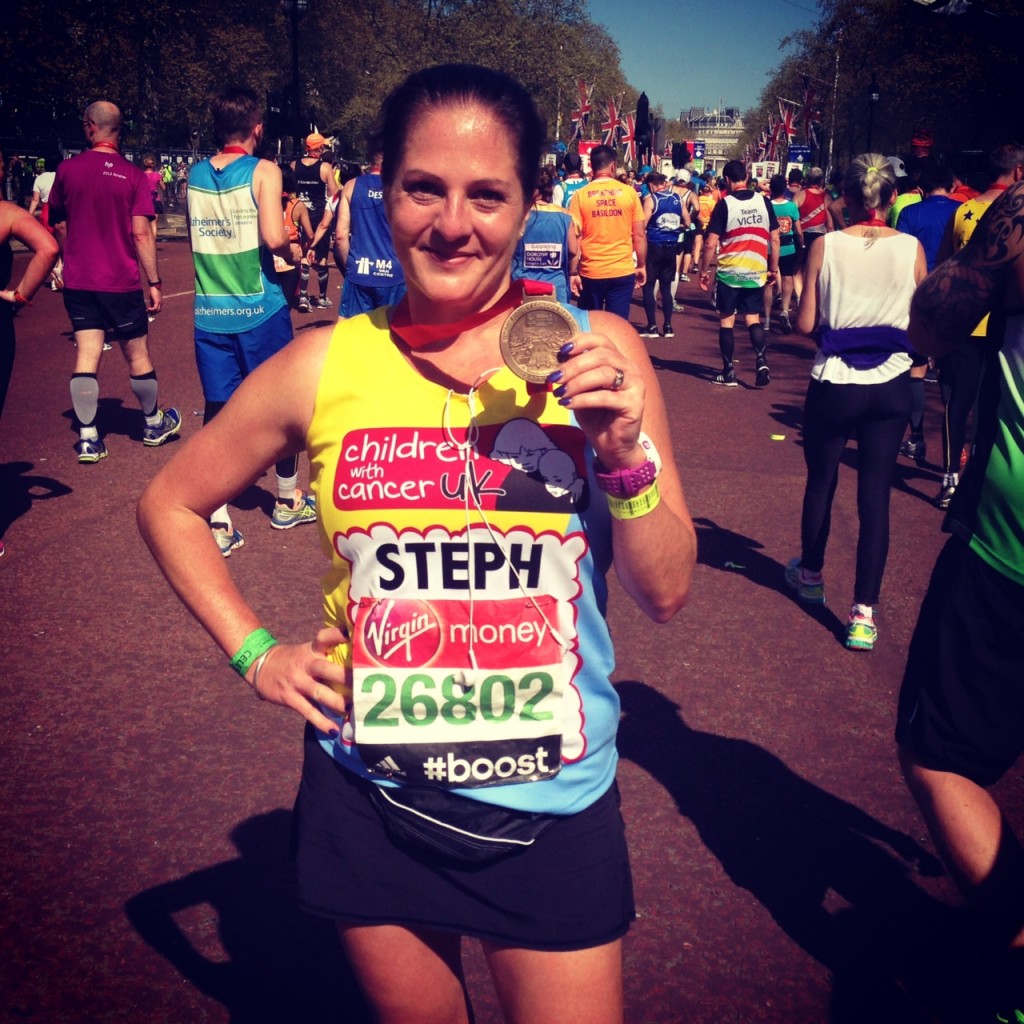 I did it. Last sunday I finished the London Marathon in 4 hours and 27 minutes.
I can't even begin to tell you the satisfaction I feel in writing that. So much of my life this year has gone into that run and the relief I'm now experiencing is amazing.
Juggling four children whilst training for a marathon in the middle of a Sydney summer was so tough and at times I didn't think I could do it anymore, but the reward of being able to come back to London kept me out there. Getting up at 4am to run 30+km is a lonely thing to do, I think it was almost harder than the run itself.
The day of the marathon by London standards was going to be warm. People were worried about how hot it was and all I could think was perhaps all that awful training in intense heat would come to some use after all, and it did.
I ended up with a celebrity starting spot for the marathon tagging along with a lovely friend who is in the public eye. I'd already checked out the list of celebrities that were running prior to the day and there was only one I really wanted to meet. Chef, Michel Roux, Jr.
And that I did. What a truly lovely man he is. Running his eighteenth London Marathon!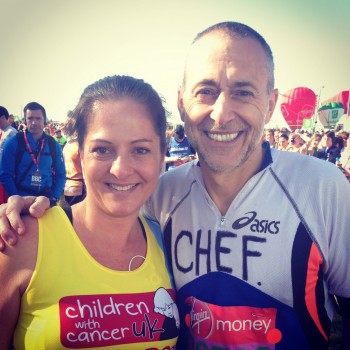 Unless you've either been a spectator at the London Marathon or taken part in it, it's really hard to understand just how amazing this event is. Londoners are known to be a bit rude and anonymous at times, yet nearly a million of them all come together on this one day a year to cheer on thirty six thousand runners doing their best to run forty two point two kilometres as fast as they can. It's just unbelievable. To see a whole city turn out for this world famous event is staggering.
I ran for the charity Children with Cancer UK and had my name in enormous letters on the front and back of my singlet. Having total strangers cheering your name for four and a half hours is the weirdest thing ever but also the most wonderful feeling. Total strangers willing you to keep going, it's just amazing.
The weeks leading up to the marathon were strange. I was so excited about returning to London and to run the marathon but when training ends and tapering starts, it messes with your head. How can I run a marathon when I feel like I've done hardly any running in the three weeks prior?  But I had to trust my training and remember I was going into this race as prepared as I could be and there were thousands of people who hadn't trained like I had.
Because I'm a bit of a princess, I booked myself a couple of nights at the May Fair Hotel in Mayfair for the night before and of the marathon. Holly was staying with friends of mine so I had the whole night to have dinner with another friend who was also running and to work myself up into an anxious mess in the privacy of my own hotel room.
The morning of the race I met my friend early on and we headed to the green start group where the celebrity start group was. Best part? NO TOILET QUEUES. Anybody who races regularly will know that portaloos at running events are worse than pub toilets at midnight. So being greeted by the poshest temporary toilets I'd ever seen was a welcomed sight.
After some mooching around we were shuffled to the start group with the press right in front of us, snapping away. I was about three people behind so my giant ugly Hoka shoe made it into the Daily Mail … does that mean I've made it? ha ha.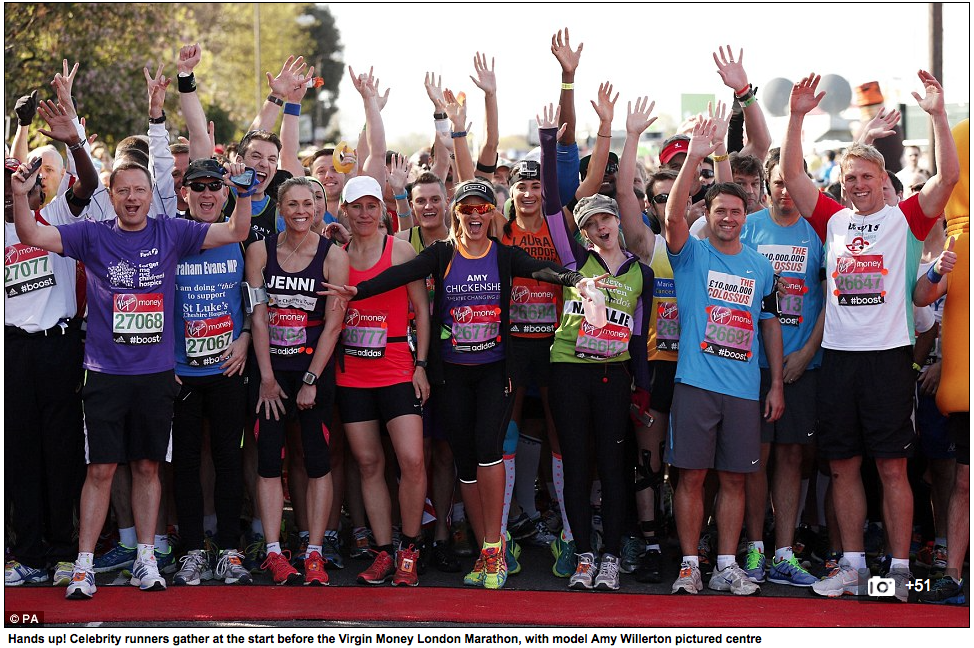 I won't bore you with the details of the race except to tell you at around 35km I decided I was never ever ever ever ever going to run a marathon again. I was in a whole other world of pain and really had to dig deep to put my head down and keep going.
I think it was being overtaken by Darth Vadar that spurred my last few kilometre sprint. That or the man dressed as a puppy. At least I wasn't beaten by a mustard bottle like I was at the Sydney Half Marathon. Positives.
Crossing that finish line was the most satisfying achievement of my life to date. I can't tell you how much went into this marathon. My life has been on hold for the past few months and all my concentration has been on running. I hope it isn't a little selfish to say it was worth it. Every single second of it.
Needless to say I am now running the Sydney Marathon in September. I'll probably come back to London next year as well. I'd decided that about 50m after crossing the finish line.
Thank you to everyone who made my marathon experience what it was. My wonderful husband and family, my beautiful friends -Emily, Kate, Zoey & Lee who were there with me every step of the way, everyone at Operation Move and my lovely Mum who is minding my boys while I'm doing my thing in London.