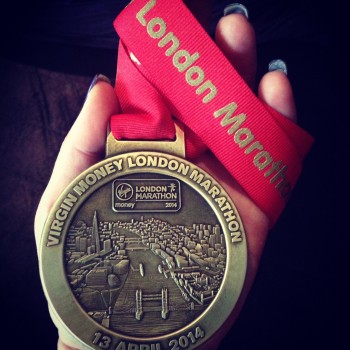 It's hard to believe it's been a whole year since I was there but in two weeks I'll be on a plane en route to London … my favourite place in the world and my spiritual home. I know that sounds corny and makes me a really crap Australian but London is my happy place and where I feel most at home.
Although running a marathon is an incredibly desperate way to ensure a trip back each year, it makes it all the more special for me. Training for a marathon is lonely and requires a lot of self discipline so on those awful 4am mornings when I had 30km+ runs ahead of me, it's the thought of going back to London that keeps me going.  When I'm in pain and am fatigued and just want to stop, the memory of running across Tower Bridge last year is enough to bring one foot in front of the other until I reach the end of my run.
Because the second half of last year was spent tackling pretty difficult injuries, I had to change tack training wise for this one. It has meant running less and cross training more which is a huge gamble when it comes to trying to run 42km in a certain time. I have my own little secret hopes for the outcome of this marathon but I'm clinging to it by a hair strand because at the end of the day I really haven't done as much training as I did last year. Not even close.
Having said that, I am far stronger this year and weigh much less. I'm probably 6kg lighter which is always helpful when you're carting your body weight 26 miles around a huge city. The strength and conditioning program I've been doing in the gym was written for me by the greatest fitness genius I know and it works. I have never felt better and although I'm running slower than I was last year – I still know I can run a marathon.
What I don't know is how well my stronger body, that has done limited kilometres to ensure I stay uninjured, can last when you're running for 4+ hours without stopping.
In exactly one month to the day we will find out!
My legs have been giving me a bit of grief so at the moment I'm seeing my chiropractor twice a week and having two intensive remedial massages a week. I'm rolling frozen water bottles under my feet, rolling my quads, rolling my hamstrings, doing stretches and if there was a running God I'd be on my knees praying as well.
In addition to that, because being a Mum to four kids and juggling marathon training isn't enough, Rob and I decided it would be an excellent time to sell our house. So last week we did that too. A few days later we saw a house we loved that we plan to do some work on and so we bought that too.
I can hand on heart say that buying and selling houses is far more stressful than 16 weeks of marathon training. If I ever have to have anything to do with the Sydney real estate market again it will be too soon. The selling part went smoothly and we were thrilled with the outcome, the buying part however showed us the dodgy and quite frankly criminal side to real estate and it's an experience I never want to live through again. But thanks to our ridiculous state government taxes, our stamp duty bill has ensured we never will anyway.
So the week after I run the London Marathon I will be straight off the plane and into packing up our lives, yet again, and moving somewhere else, yet again.
Hopefully it will all be done by the time training for the Australian Outback Marathon starts again at the end of May …
I'm not sure what I was thinking when I committed to three marathons this year.