London Marathon x 2 .. DONE!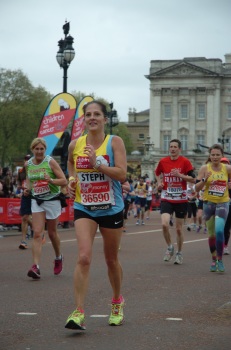 Last sunday I ran my second London Marathon (VLM) and finished with an enormous smile and an enormous sigh of relief.
Although it didn't quite go smoothly, it was the most amazing day and I loved it. Because I had run the marathon last year I knew what to expect, but even my own expectations were by far exceeded by the absolutely mind-blowing crowd that paved the sidelines the entire marathon distance. Unless you've been a spectator at the VLM or run it, you just can't fathom the noise and energy the spectators give.
It's like having one million running coaches along the way, encouraging you to keep going, calling your name, shouting out messages of support and clapping. To be able to hear that for over four hours straight is a game changer. There is no way I could have done what I did on sunday without the help of a million people I don't even know.
Until I finished the race, I didn't realise how much the marathon had been stressing me in previous weeks. It's been five days since race day and I feel so different to the same time last week that I'm actually a little alarmed how much angst I was carrying.
The marathon consumes you. Anything you put your heart and soul into for 16 weeks does I guess, but the marathon really is something quite unusual. I hadn't realised how much I really was living and breathing a future 26 mile run. I know it's a bit ridiculous to non runners but it really is like that.
When I was offered a charity place last year I was on the back of the worst running injury I have ever had. I wasn't able to run more than 8km without knee pain so I knew I had a long way to go until I was marathon ready. So my goal back then was just to get to the start line uninjured enough to have a really good shot at finishing it.
I've written before about my less than ideal training plan that was tailored around my stupid ITB injuries so I won't repeat myself but I obviously did get to the start line, but I was certainly not 100%.
During my training that was based on only one run per week plus 3-4 days strength training in the gym, although I completed nearly all my long runs, my knee pain was a constant annoyance so I knew on the day it would give me grief, the golden question was at which distance along the 42km would it strike.
I actually made really good pace until just before the half marathon mark when my knee started to niggle. I just couldn't believe it had happened so soon as even in the last few weeks of training it usually only gave me grief upwards towards the 30k mark.
I knew I had friends waiting for me around this point and seeing them was such a huge moment. I stopped and hugged them and told my friend, Bec, that my knee was starting to get sore. She gave me another hug and told me I could do this and to keep going.
I broke the next 10km into chunks and after each 2km I would stop and stretch my quads and keep going. By the time I got to 30km my knee was a wreck and I had to stop completely. I even got my phone out and sent some messages .. just feeling so demoralised and disappointed.
The London Ambulance that were along the course stopped and asked if I was okay. I begged them for pain killers to no avail. I think they just wanted to check I was coherent.
I half limped, half ran the next 7km or so and then as I was stopped along the sideline in tears, another runner stopped and asked if I was okay and when I told him the problem he handed me two little orange tablets and said he was taking them for his achilles pain.
So because my mother always taught me not to take sweets from strangers, I took them. Didn't even bother swallowing them with water.
As I continued along I was nearly in stitches thinking "HOLY SHIT, I JUST TOOK DRUGS FROM A STRANGER". I'm pretty sure that was the lowest of low points in my running career!
Good grief, the things you do when you are desperate. However I was in so much pain and so in need of something to help that my brain didn't even compute what I was actually doing. If you have ever had ITB syndrome you will know how painful it is to run when it starts pulling on your knee. It's hideous.
The last 4km were the best 4km I have ever run. The crowd by this stage is several people deep the entire way to the finish line and they just lift and carry you to the end. Last year I ran with headphones and I missed most of it. This time around there was no way I was letting that happen again and I'm not sure I'd have even finished if that amazing crowd hadn't been there.
The human spirit is just so powerful. The way another persons energy and encouragement can push you to do things you otherwise wouldn't be able to do on your own is incredible.
The last two kilometres I flew home across the line. From somewhere I found the energy to power over the finish line (hello 2 tiny orange anti inflammatory – (I think) – tablets) and although my finishing time ended up being 16 minutes slower than last year because of my knee, I am so proud of how every single metre of that race panned out. There was nothing I could do about my injury but that I finished under such painful circumstances in a still respectable time I am very proud of.
But not proud enough that I ever want to run the last 12km of a marathon in pain again!
To everyone who sent me messages of support and those who tracked me on the day, thank you SO much. I am so grateful for all your words of encouragement and support.
If you were a spectator on the day, you are just beyond awesome. The London Marathon is the greatest marathon in the world because of you. You are what keep 35,000 runners going when the going gets tough and your support is invaluable. You rock!
But the biggest thanks of all goes to my Mum, Susan, who I would never be able to do this without. If she wasn't at home in Sydney with my four kids I wouldn't be able to do what I love so she deserves a huge thank you and a massive solid gold medal for surviving 3 weeks solo with my lambs. Love you, Mum xx
** Many amazing things happened on race day so I'm going to split this into two posts. This one just a race recap and next week the other incredible things that happened and the amazing people I met on the day. They are worthy of their own blog post.