It's that time of the year when Rob and I decide what to do for Christmas. Living overseas means no decisions have to be made over whose family we spend it with so we're free to travel wherever we like.
Our family holidays are infamous for going spectacularly wrong. Cancelled flights, getting stuck in a once every fifty year blizzard in Dublin whilst in the car, sitting on the tarmac in a plane and being told to get off because there were no runway lights (thank you, Greece), to holidays where I spent the entire four hour bus trip vomiting into my handbag with morning sickness as we wound through the French Alps.
Some may say we're unlucky. I just think we're cursed.
The last couple of holidays have been trauma free, which alarms me greatly. It means we're up for a catastrophe some time soon and I'm not sure I want to risk it this Christmas.
A lot of the time there's an emergency service involved. Sometimes several. Take for example the time we accidentally locked Luca in the car with the keys at Gatwick Airport.
We had one of those cars where if the keys are inside it, the car thinks you are too so it locks it for safety reasons – not thinking you'd be stupid enough to put your keys inside it and then shut the door .. when your child is also in it. Like we did.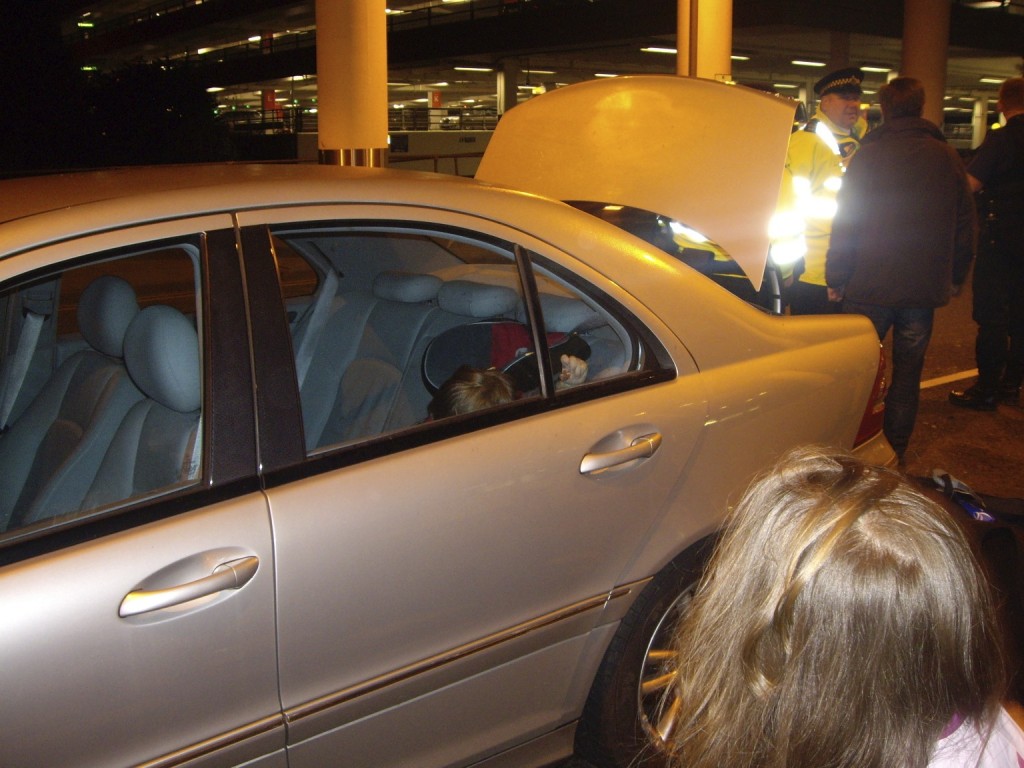 I should point out here that if you're familiar with Gatwick Airport, you'll notice this is smack bang out the front of the entrance. Excellent for making a scene of ones self with maximum exposure.
The lovely man in the yellow vest is the Gatwick Airport Security Chief, he had a go at trying to break the lock but couldn't so he called the Metropolitan Police. Meanwhile as the photo underneath demonstrates, Luca was a tad distressed.
So the police arrived. I'd like to add also that I was 32 weeks pregnant and had the worst morning sickness ever and was vomiting a couple of times per hour which wasn't all that convenient at this point.
My sister was with us too. She'd been staying with us on a gap year and had already endured twelve months of the drama we generate so she kindly took these photos for us while she was sitting back enjoying the spectacle. As were about a hundred other passengers. She still claims she's never holidaying with us ever again.
The police wouldn't let us smash the window because obviously Luca was in the car but by now he'd calmed down a bit because he'd found a bottle of rancid apple juice that had been rolling around on the floor for the week we'd been away. Yummy.
So the police called RAC rescue.
The RAC tried in vain to get him out so about an hour and a half later, they called in the big guns.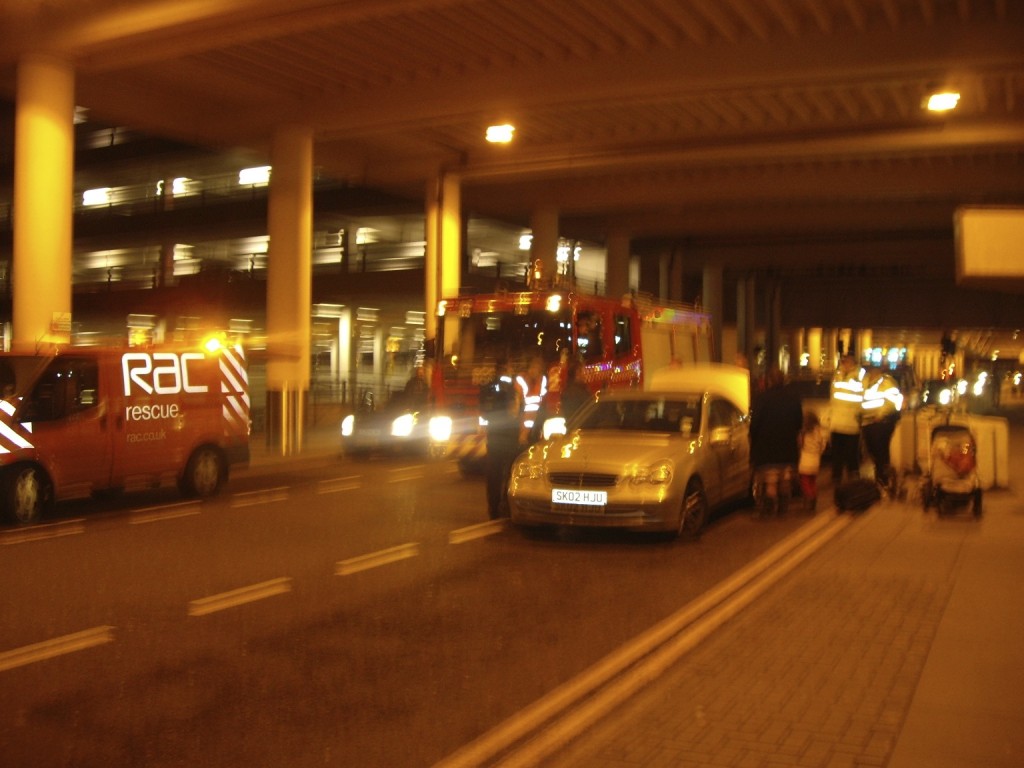 The Fire Brigade. Seven big burly fireman in their big red truck .. sirens and lights blaring.
In the end we got him out but it took Airport Security, RAC Rescue, the Metropolitan Police and the Fire Brigade .. all for my little boy.
Do you see why I'm nervous?