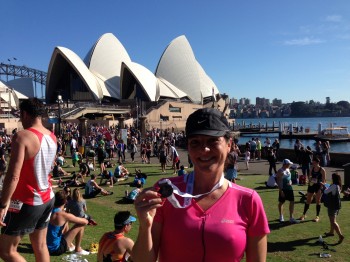 Today I ran the Blackmores Sydney Running Festival half marathon.
Not only was it a perfectly blue and warm spring day but it was a beautiful course starting at the Harbour Bridge and finishing at the Opera House 21km later … but best of all I ran my personal best time in 1hr 56mins.
I still find it a bit weird running in Sydney. I know it so well and even though there are a few more buildings than the last time I lived here, it's much the same.
I used to do a lot of running events in London and loved sightseeing during them. Even after living there for as long as we did I still got a kick out of seeing London's famous landmarks time after time. It was just so cool and it's not every day you get to run through Admiralty Arch or down the middle of the road past Westminster Abbey.
Having said that, it's not every day you get to run across the Sydney Harbour Bridge either and I got to do that today. It was pretty cool.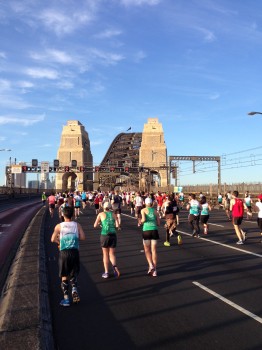 I was trying to do a sub two hour race and since I've put in a heap of training I'm really happy with my time. Sometimes I still have to pinch myself that I can call myself a runner. Me, Stephanie. Reformed sloth.
As we were running down Clarence Street, there were a group of guys that had obviously just walked out of a nightclub somewhere. Shouting out stuff at us like "Your sofa misses you" and "Go back to bed". They thought it was pretty funny and so did I but nobody else did really.
I found it amusing because I used be one of those. I was a huge party animal back in the day and walked out of many, many nightclubs and dance parties only to be greeted by swarms of health freaks doing ridiculous distance races first thing in the morning. I thought they were all insane and that we were the ones enjoying life the proper way. How the tables have turned.
So I had a good old chuckle and reminisce as I ran past them and thought to myself if you'd told me back then I'd be one of those weirdo runners I'd have laughed into my cocktail.
Anyway the other bonus of the day was sharing it with these two lovely ladies, Kate and Zoey.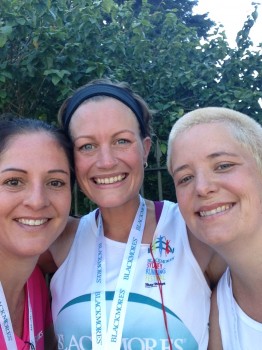 Kate started up Operation Move about a year ago and it's a big group of us from all over Australia who log our hours and miles and talk about all things running and moving. It's not about diet or losing weight, just about moving. I love it and its been hugely responsible for keeping me running and motivated. I love these two!
So I did it. My second half marathon. It was awesome and I feel very proud of myself ….
Even though I got beaten by a mustard bottle.